South Central Rooted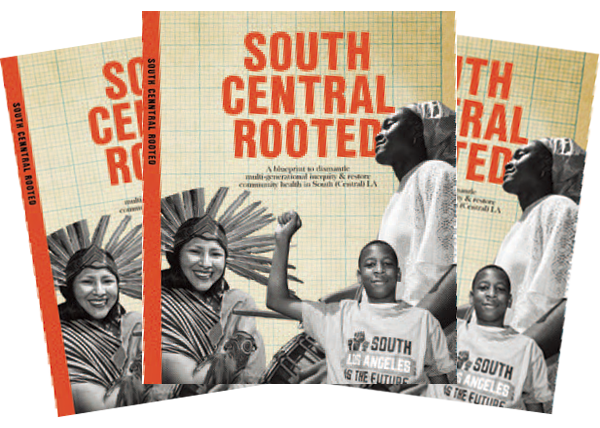 This report explores four intersecting root causes, or "drivers of disparity" in South LA:
History
From 1965 through 1992, after the Watts Rebellion, South Central LA endured decades of major economic restructuring, with the disappearance of union-dense manufacturing jobs, an abundance of new precarious services jobs and high unemployment, particularly among young residents.
The passage of California Proposition 14 in 1964, while later found to be unconstitutional, rolled back anti-discrimination laws in the housing allowing for realtors to legally deny Black people the right to buy housing. The McCone Commission in 1965 found that conditions such as inadequate public transportation and education systems, poor health care, and poverty, were the simmering factors that led to the Watts riots in August 1965. The Commission, however, fell short by dismissing the common practice of police brutality and the racially-motivated harassment by police as 'distrust' by Black Angelenos, rather than a systemic problem. Its recommendations to address the problems facing Black people in South Central Los Angeles have either been rolled back after inadequate implementation or were never realized at all.
Another flashpoint in South Central LA was sparked in 1992, the police officers who viciously beat Rodney King, the racially biased courts that acquitted them, and the society that explained away their crimes, even in the face of indisputable evidence. The LA Uprising also exposed the pained tensions that existed between the Black, Latino, and Korean communities. Korean store owner Soon Ja Du murdered Latasha Karlins only days after Rodney King's beating and was later sentenced by Los Angeles Superior Court Judge Joyce Karlin to community service and probation while state prisons were being filled with Black bodies for non-violent crimes. Blacks, Latinos, and Asians continued to experience serial violence subsequent to the acquittals of the LAPD officers. All these events and numerous others revealed the painful complexity of racial and economic injustice. It also revealed the real community trauma that residents in South Central LA have experienced in cycles of systemic neglect and disinvestment.
The inequities that these flashpoints highlighted continued to persist, most recently in the Great Recession, when Black and Latino residents in South Central was disproportionately affected in those four drivers of disparities. The coalition organized a march to commemorate the 25th anniversary of the 1992 Uprising as a way to bring attention to these persisting conditions. This report is also a product of this.
The platitudes to 'Rebuild LA' dissipated soon after the 1992 LA Uprising and ushered in a backlash by both conservative and liberal decision makers. At the federal level, crime bills expanded the prison system, 'welfare reform' decimated the social safety net and 'immigration reform' expanded deportation and punished immigrants. At the state level, legislators nearly bankrupted the State coffers to build the most well-funded prison system in the country. California voters used the ballot box to attack immigrants, end affirmative action, criminalize youth and adopt a three strikes law, end bilingual education, and prohibit gay marriage. Since little was done to create jobs, bring investment to South Central LA, or improve schools and other institutions by Rebuild LA – leaders in South Central LA were forced to build community trust and political power themselves.