This episode, "Driver #3 – Policing, Suppression, Deportation, and Mass Incarceration," focuses on South LA residents' contentious relationship with law enforcement in various environments and the importance of multi-layered activism to enact change. We discuss the historical relevance of policing in South LA, the harmful encounters between law enforcement and youth, health outcomes related to over-policing, and the different policies created to combat pervasive surveillance in schools. We further discuss the narratives around law enforcement in communities of color, and engage in conversations that reimagine public safety, interactions with law enforcement, reforms for discriminatory practices, and how to foster safer and, thus, healthier environments for South LA residents.
Executive Director/Co-Founder, CADRE
Maisie Chin is founding Executive Director and Co-Founder of CADRE (Community Asset Development Re-defining Education), an independent, grassroots parent membership organization in South Los Angeles comprised of African American and Latino parents/caregivers solidifying and advancing their leadership so that all children are rightfully educated regardless of where they live. A native Californian and first child of Chinese immigrants, Maisie has been a seasoned facilitative leader in the social justice movement for 27 years, dedicated to eliminating structural racism. As the co-designer of an innovative approach to catalyzing parents' participation in racial and educational justice, Maisie has supported CADRE parent leaders in breaking new ground by fighting to end the pushout of low-income families of color from public schools and into the school-to-prison pipeline, using human rights-based community organizing and policy advocacy. Maisie has co-led efforts that have successfully changed school discipline policy, significantly reduced student suspensions, decriminalized schools through parent-led policy change and monitoring, and redefined parent participation in educational justice in Los Angeles, California, and nationally. Maisie is Board Vice-Chair of the Schott Foundation for Public Education, and a graduate of the Pahara-Aspen Fellowship. Maisie holds a Bachelor of Arts in History and a Master of Arts in Urban Planning from UCLA.
Brothers, Sons, Selves Coalition Manager
David C. Turner III is an activist-scholar from Inglewood, California. As the Manager of the Brothers, Sons, Selves, David leads a coalition of 10 community-based organizations working to end the school-to-prison pipeline and decriminalize communities of color. David currently teaches at the collegiate level, including classes on hip-hop, research methods, education, and comparative ethnic studies. David received his B.A. in Africana Studies from CSU Dominguez Hills and his M.S.Ed in Higher Education from the University of Pennsylvania. He is currently a 5th-year doctoral candidate in the Social and Cultural Studies in Education program at UC Berkeley, where his research focuses on youth-based social movements, political identity, and resistance to the prison regime.
Mary M. Lee consults with community-based organizations, public officials, government agencies, and philanthropy to dismantle racially biased systems and structures and build just and equitable neighborhoods. She is a former Deputy Director of PolicyLink, a national advocacy organization working to advance racial equity and social justice. A practicing attorney for over 25 years, Lee has experience using civil rights, land use, and economic development strategies to revitalize neighborhoods and enhance public participation in the policy arena, with an emphasis on the legal rights of low-income people.
History of Resisting Police Violence 
Los Angeles protests through the years.
Say Their Name
#Say Their Name is a live list of the names of Black people killed in the U.S. by police and by civilians, which continues to be updated.  According to CBS News, police in the U.S. killed 164 Black people in the first 8 months of 2020.  According to the Washington Post, 985 people have been shot and killed by police in the past year.
The School Climate Bill of Rights
What is it? LAUSD adopted this model to provide a framework for implementing and developing a culture of discipline grounded in positive behavior interventions and away from punitive approaches that infringe on instruction time. For more information, read the full text of the SCBR  or this fact sheet by LAUSD.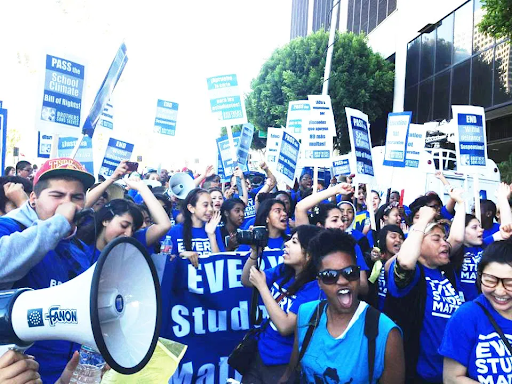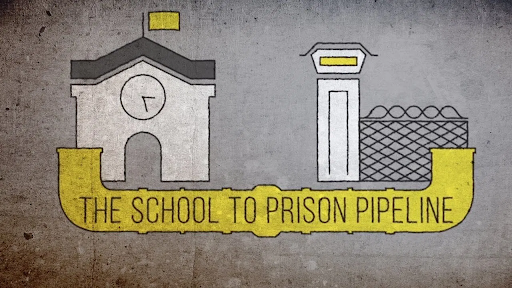 The School to Prison Pipeline
What is it?  The school to prison pipeline is a process of criminalizing youth that is carried out by disciplinary policies and practices within schools that put students into contact with law enforcement. 
To learn more, visit the Justice Policy Institute or read this report from the Labor/Community Strategy Center.
Willful Defiance 
What is it?  Willful defiance is defined as "disrupting school activities or otherwise willfully defying the valid authority of school staff." This broad definition has included suspensions for everything from a student failing to follow directions or bring materials, to wearing a hat in class or talking back to a teacher.
In 2013, California signed into law Assembly Bill 420, which amends California Education Code section 48900(k) by eliminating the authority to suspend a student out of school or in-school in kindergarten through third grade for "disruption" and "willful defiance." Further, under AB 420 no student can be expelled for "disruption and "willful defiance."
In 2019, Assembly Bill 419 expanded on AB 420 by eliminating willful defiance suspensions in grades 4-5 and banning them in grades 6-8 for five years. 
To learn more, check out this EdSource article and this fact sheet, which provide more information about the impact of these laws on student's education.
The Alpha File 
What is it?  The "Alpha File," better known as the Disposition Data Coordination Project (DDCP), was initiated in 1973 as a cooperative program between the LAPD and LAUSD to monitor groups of what the LAPD defined as "hard-core" and "at-risk" kids in South Central. 
The ACLU filed a class action suit on behalf of two black students and their parents to prevent implementation of the DDCP because of the racist targeting of South Central youth (1). In the present day, the LAPD has utilized the CalGang Database.
What is the CalGang Database?  The objective of the CalGang database is to provide law enforcement agencies with an accurate, timely, and electronically-generated database of statewide gang-related intelligence information.  
CalGang is widely shared by state, federal, and international law enforcement entities, but the LAPD is not required to notify listed individuals that they are included in the database.
The Los Angeles Police Department is currently facing litigation for falsifying information on the CalGang database. Plaintiffs say that LAPD officers routinely filled false "field interview cards" inaccurately classifying, majority Black and Latino people, as gang members.  
More coverage: Los Angeles Times
(1) Felker-Kantor, Max. Policing Los Angeles: Race, Resistance, and the Rise of the LAPD. UNC Press Books, 2018. pp. 102-103
Assembly Bill 392: Police Use-of-force Bill/ CA Act to Save Lives
What is AB392?   This bill redefined the circumstances under which a homicide by a police officer is deemed justifiable. Under the new law, deadly force by a police officer is only justifiable when necessary to defend against an imminent threat of death or serious bodily injury to the officer or to another person.
To learn more, check out: Assembly Member Dr. Shirley N. Weber's website, which provides background information on AB 392 and previous advocacy efforts.
Bill text:  https://leginfo.legislature.ca.gov/faces/billNavClient.xhtml?bill_id=201920200AB392 
Youth Power Summit
What is the Youth Power Summit?  The Youth Power Summit is a conference tailored for youth in California who are leading the movements for racial and economic justice such as fighting for quality schools, an end to youth incarceration, immigrant rights, healthy environments and communities, and more.
To learn more, check out: The Brothers, Sons, Selves (BSS) coalition webpage for more opportunities to get involved in advocacy campaigns: https://www.innercitystruggle.org/brothers_sons_selves
Fight for the Soul of the Cities
The Fight for the Soul of the Cities is a civil rights group with an international vision for urban organizing, a product of the Labor/ Community Strategy Center's 24 years of organizing. Focusing on Los Angeles, their frontline frame is the Social Welfare State Not the Police State, the Environmental State not the Warfare State. This group focuses on grassroots campaigns such as the End the 1033 Program and the Urban Reconstruction Campaign. 
What is the End the 1033 Program campaign?  The Department of Defense 1033 program, also known as the Excess Military Equipment Program, permits the transfer of excess supplies and equipment to law enforcement agencies across the country including school police departments. The End the 1033 Program Campaign was the Fight for the Soul of the Cities advocacy effort to put an end to this program, create an inventory of all weapons received, and return all military grade equipment obtained by the Los Angeles School Police Department (LASPD).  This campaign victory is the first time in the U.S. that a social movement has forced a police department  to reduce its armaments and end the 1033 program. 
What is the Urban Reconstruction Campaign?  The Urban Reconstruction campaign calls for radical reconstruction. The list of demands includes free public transportation, a stop to the Los Angeles Metropolitan Transit Authority's (MTA) attacks on Black/Latino passengers, no police presence in LAUSD schools, no police presence in public transit, and no cars in the City of Los Angeles.
To learn more, check out: The Fight for the Soul of the Cities website for information on their campaigns and how to get involved: https://fightforthesoulofthecities.com/
The Los Angeles Fair Chance Initiative for Hiring/Ban the Box
The Los Angeles Fair Chance Initiative for Hiring, also known as Ban the Box is an ordinance that prohibits employers from inquiring about criminal histories until a conditional job offer has been made, which was signed into legislation in 2016.
Expanding on this ordinance, the State of California adopted the California Fair Chance Act (AB-1008), which adds a section to the Fair Employment and Housing Act. The law limits employers' consideration of an applicant's criminal history similar to the City of Los Angeles' Fair Chance Initiative for Hiring Ordinance.
To learn more, check out: The LA County Fair Chance Act website, which provides more details on the hiring process and your rights: https://fairchance.lacounty.gov/
St. John's Well Child & Family Center
St. John's Well Child & Family Center is one of the largest healthcare providers for undocumented immigrants in the nation and has become a target for Immigration and Customs Enforcement (ICE) activity. To protect their patients from ICE raids, St. John's developed a strategy that includes training staff to organize and educate patients on their rights and utilizing waiting rooms as a safe training space. 
To learn more, check out: St. John's 2018 Impact Report which describes their efforts to improve immigrant and community health.