This episode, "Driver #1 – Gentrification, Homelessness and Displacement," focuses on the trajectory of the housing crisis in South LA from the Great Recession to the pandemic stricken current day. We explore the zoning and housing policies, birthed during the recession, that have continued disinvestment and displacement of South LA residents. We also discuss the adverse health effects of low-income housing in South LA due to racialized health disparities upheld by landlords enforcing slum living conditions. Finally, our panel of community organizers highlights the power of land use and ownership as solutions for South LA residents to reclaim their neighborhood and advance community ownership
Director of Outreach and Education, SAJE
Araceli was born and raised in South Central LA and studied at San Francisco State University. Living in San Francisco she experienced the displacement and gentrification within communities of color like La Mision which sparked an interest in tenant rights. Coming back to South Central LA, Araceli volunteered at Strategic Actions for a Just Economy (SAJE) and was eventually hired as a full time employee for the Rent Escrow Account Program, and she now serves as the Director of Outreach and Education. Araceli strives to bring tenant right resources to communities in need of information and guidance with their housing issues.
Associate Director,  T.R.U.S.T South LA
Oscar Monge is Tenemos Que Reclamar y Unidos Salvar la Tierra (T.R.U.S.T. South LA) Associate Director. His focus is on growing the Community Land Trust's (CLT) large and small multifamily affordable housing projects, member & leadership development activities, as well as managing daily operations. His main role is to advance the CLT's vision of de-commodifying land and homes by removing them from the speculative market and strengthening T.R.U.S.T.'s Black and Brown member leadership to collectively steward community assets. Oscar is committed to cultivating leadership from within organizations and communities and has held mid-to-executive non-profit management roles to advance Equitable Community Development and Climate Resiliency initiatives. His work in youth workforce development, environmental justice, and leadership development anchored his life-long commitment for building equitable and sustainable neighborhoods and policies. He earned his Masters of Urban Planning degree focused on Sustainable Development from the University of Southern California and later an Affordable Housing Certificate from the University of California, Los Angeles. He has a strong moral compass and an unending curiosity for learning and implementing stronger community and environmental stewardship models designed and led by people of color.
Director of Policy, Esperanza Community Housing
Rabeya Sen is Director of Policy at Esperanza Community Housing Corporation, where she works on issues related to affordable housing, equitable development and anti-displacement strategies, environmental justice, health access, racial justice, immigrant rights, and much more. She has worked in the social justice movement for over 24 years, addressing the complexity of experiences that shape the lives of individuals, families, and communities. Prior to joining Esperanza, Rabeya worked in related fields, addressing the confluence of structural violence and social justice issues, especially their impact on issues of domestic violence and gender-based violence in API & other immigrant communities. She also has her Master's degree in public policy, focusing on social welfare policies, both local and international.
Market-based investment in the '84 Olympics leading to massive displacement
Disinvestment and inequitable investment catalyzed the LA Uprising
Government sanctioned displacement by freeways
Environment toxicity as a result of government land use
Black Stone group as an example of corporate Landlords that turn foreclosures into luxury housing in low-income areas
Impact and implications of disaster capitalism
Convert community ownership to tenant ownership
AllenCo Oil Drill Site, an oil extraction business that negatively impacted the health of residents
Ellis Act
What is it? The Ellis Act is a California State law that allows landlords to evict residential tenants to "go out of the rental business." Ellis Act evictions are generally used to change the use of the building such as converting rental units to condominiums.
To learn more about Ellis Act Evictions check out the San Francisco Tenant Union website
Eminent Domain
What is it? Eminent domain refers to the power of the government to take private property and convert it into public use, if they provide just compensation to the property owners.
To learn more about the historical application of eminent domain and its implications for civil rights, check out this report on the demographics of eminent domain abuse:
To learn more about how housing and tenant rights advocates are reclaiming eminent domain as a tool to preserve affordable housing, check out the following:
Senate Bill 91: COVID-19 Relief – Tenancy Federal Rental Assistance
What is it? Senate Bill (SB) 91 extends the COVID-19 Tenant Relief Act (AB 3088) for another five months until June 30, 2021, and creates a state government structure to pay up to 80 percent of past due rent to landlords.
To learn more check out the StayHousedLA resource: https://www.stayhousedla.org/tenant_rights

Root Shock
What is it? Root Shock refers to people's traumatic stress reaction to displacement following a natural disaster, development-induced displacement, war, and/or slow changes to their home such as gentrification.

To learn more check out Dr. Mindy Fullilove's book entitled Root Shock or her website.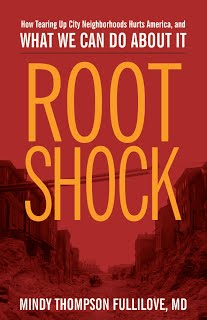 Resources 
Strategic Actions for A Just Economy (SAJE) is dedicated to building community power and leadership for economic justice by advocating for tenant rights, healthy housing, and equitable development.
Check out these important housing resources:
Recommended Reading
Check out these recommendations to get informed about Driver 1: Gentrification, Displacement, and Homelessness:
The Shock Doctrine by Naomi Klein
Resisting Redevelopment: Protest in Aspiring Global Cities by Eleonora Pasotti
On Common Ground: International Perspectives on the Community Land Trust, edited by John Emmeus Davis, Line Algoed, María E Hernández-Torrales
Evicted: Poverty and Profit in the American City by Matthew Desmond
The New Jim Crow: Mass Incarceration in the Age of Colorblindness by Michelle Alexander
The Color of Law: A Forgotten History of How Our Government Segregated America by Richard Rothstein